Darwin Middle School
The Disappearing, 2014
The School
Opened in 2008, Darwin Middle School provides a vibrant, student focussed learning program for students in year 7, 8 and 9. The school has a wide range of opportunities for middle school aged students with a strong emphasis on Maths, English, Science and ICT.
This project was made possible through the generous support of the Tim Fairfax Family Foundation.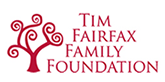 The Project
Throughout October, Sandra Thibodeaux was the Poet in Residence at Darwin Middle School. In a series of intensive poetry workshops, Sandra guided the students to create and publish their own poems inspired by themes of disappearing, transformation and change.
You can explore their poems here
Discover more poems in The Disappearing app
The Poet
Sandra Thibodeaux is a poet and playwright. She has recently released her fourth collection of poetry, DIRTY H20 (Mulla Mulla Press). In 2011, Sandra was Australian Poetry's Poet-in-Residence. Sandra has written over a dozen plays that have been staged as part of festivals and broadcast on Radio National. She is currently developing two plays – The Age of Bones (Jaman Belulang) and Mr Takahashi (and other falling secrets) – that will be staged in 2017. Sandra lectures in Literary Studies and Creative Writing at Charles Darwin University.