Kogarah IEC
Sculpture By The Sea, 2018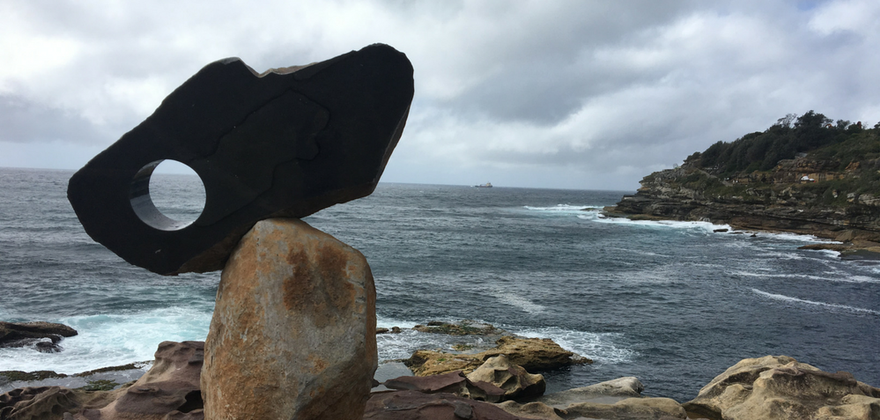 The School
Throughout its 25 year history Kogarah IEC has supported and prepared newly arrived students for the challenging language demands of an Australian High School.
Students are initially assessed and placed in a beginner, intermediate or advanced intensive English language program. Their social emotional and academic needs are constantly monitored and close links are made to keep parents and guardians informed and involved in the student's progress.
All programs focus on high student engagement and high expectation. Program design is directed at achieving enjoyable, challenging, meaningful and effective learning. With active participation of students in their learning, we seek to encourage all students to reach their highest potential and develop as independent, self-disciplined, co-operative learners.
The Project
On Tuesday October 23, poet Jonathan Hill will lead students from the Kogarah Intensive English Centre through poetic exercises responding to sculptures displayed as part of the Sculpture by the Sea exhibition. Students will work with artists and educators to consider sculptures through different 'lenses' and to be inspired to write poetry through tactile, visual and aural exploration - discovering what happens wheny you blend the forms of sculpture and poetry. Students will be guided in composing both individual and group poems.
Staged on the spectacular Bondi to Tamarama coastal walk, Sculpture by the Sea, Bondi is one of Sydney's most popular events, with 500,000 visitors viewing over 100 sculptures by artists from around the world. Held since 1997, this free to the public exhibition captures the imagination of Sydney and its visitors for three weeks each spring and is the largest annual sculpture exhibition in the world. The exhibition generates an almost unprecedented level of goodwill among the public as they enjoy one of the most unique events in the world.
The student poems will be available here soon!
The Poet
Jonathan Hill resides on the NSW South Coast beside Jervis Bay. He has worked with The Red Room Company on the Clubs and Societies and Carved Trees projects. His poetry has featured in the Koori Mail and has also appeared in anthologies - Building Bridges (2013), Indo-Australian Anthology of Contemporary Poetry (2013), Cricket Poetry Award (2011/12). His poem - 'Acknowledgement of Country' has featured in a wide variety of publications and formal ceremonies throughout Australia.
Jonathan is of Indigenous Filipino and Australian heritage and works as a teacher in the field of Aboriginal education. Jonathan's work has been included in the national curriculum and has been studied by primary and senior students.
Related