Victoria Atkinson
About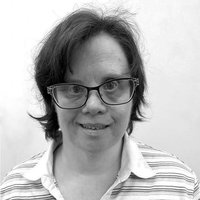 Victoria Atkinson's paintings and drawings pulsate with the rhythm of a disco dance floor. Bold, fun colour combinations and energetic line-work define her work.
A big fan of World Wrestling Entertainment (WWE), Victoria presents this aggressive and typically masculine sporting domain very much through her own lens. Colours including hot pink, blue and yellow, bringing a rainbow delight to the world of violent wrestling.

Victoria is an emerging artist working in painting, sculpture and performance. A collection of Victoria's hand-embroidered wrestling masks and belts were showcased at the Australian Design Centre's Meet the Maker session in February 2018.

Her work was exhibited at Sydney Contemporary 2019. In the same year Victoria completed a major commission for UTS Central titled Bird Life Jungle Disco, a huge collaborative mural with other Studio A artists.