"Rescued by the purpose of poetry" - Bruce Pascoe reflects on New Shoots
---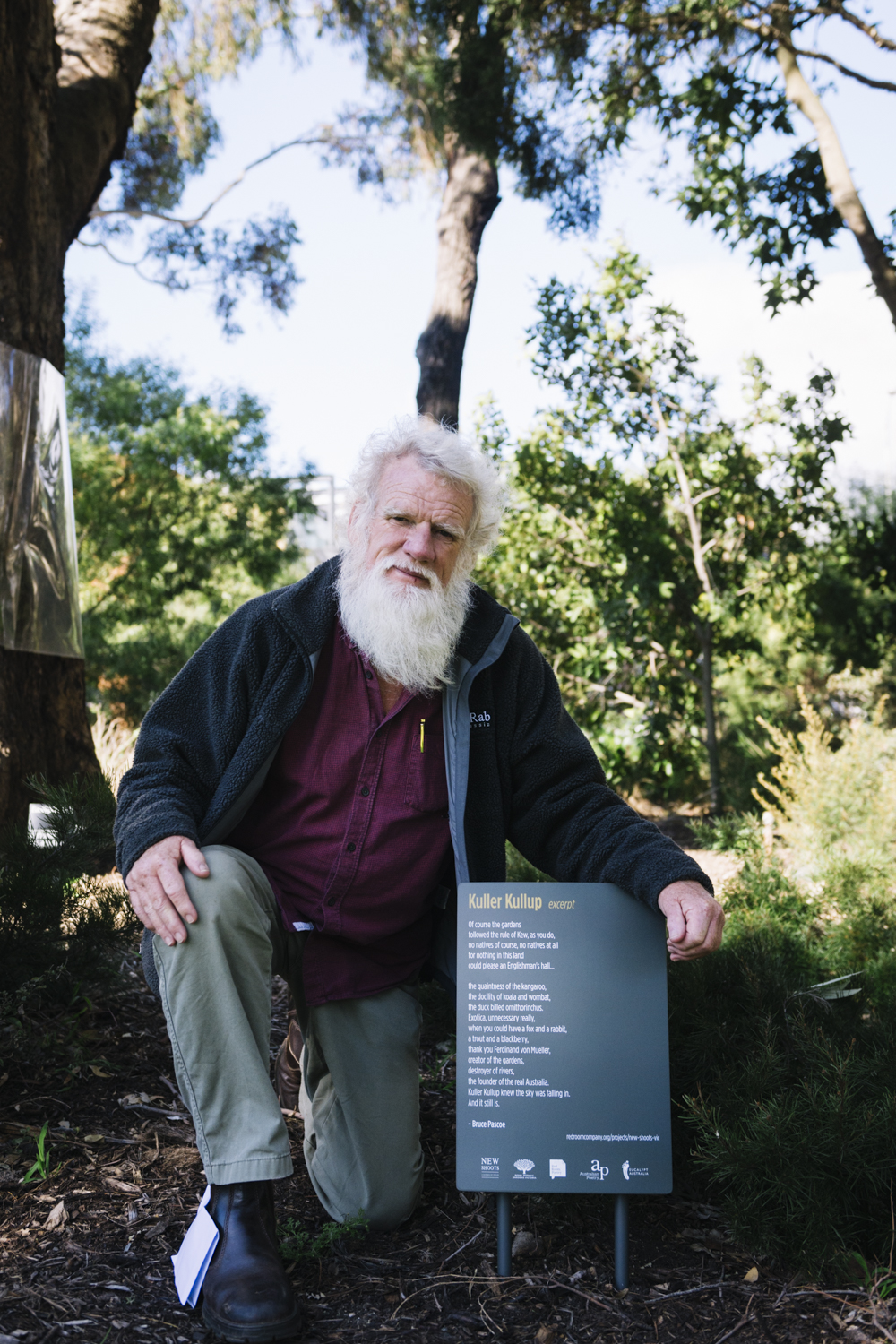 Exotica, unnecessary really,
when you could have a fox and a rabbit,
a trout and a blackberry,
thank you Ferdinand von Mueller,
creator of the gardens,
destroyer of rivers,
the founder of the real Australia.
Kuller Kullup knew the sky was falling in.
And it still is.
~ from 'Kuller Kullup' by Bruce Pascoe


Bruce Pascoe features in New Shoots: A Garden of Poems in the Royal Botanic Gardens Victoria. The launch tour (booked out), follows poems 'planted' in the gardens, an installation of 'poetic pathways' which will remain indefinitely.
It is very hard for Aboriginal people to get through a day without being reminded of loss, sometimes accompanied by a profound sadness, sometimes by mere elevated irony. When I was walking around the gardens with the other poets dread was dragging at my heels, feeling for my throat. The talk of last and natural and heritage was clutching at me with scrabbling fingers. Von Mueller did a lot for Victorian Botany but it could be said the Kidmans did a lot for cattle and disproportionate damage to Aboriginal society and the environment. Mueller labelled a lot of things but also removed the label from his blackberry seedlings as he spread them throughout the state.
---
Related poem
---
So, as I sat with the other poets and strangers in the cafeteria, feeling deafer than normal but perhaps using that as an excuse for speechlessness, I began to write Kuller Kullup because I was where that great man realised that the cultural sky was falling in. I'm not a sad man. My life is rich and happy, relatively unmarked by disadvantage, but there are some circumstances that make me slump inwards on myself, hold my guts lest they spill away from me, and that's how I felt that day, but, once again, rescued by the purpose of poetry, the ability for words to explain and soothe …a little.

Bruce Pascoe is a Red Room commissioned poet for New Shoots Victoria.
Bruce Pascoe is a Bunurong, Yuin and Tasmanian Aboriginal man, and an award-winning Australian writer, editor and anthologist. His books include Shark, Ruby-eyed Coucal, Ocean, Earth and Nightjar. Bruce has also written a number of non-fiction works, most recently Dark Emu.... read more »