"Merely to recite the names of trees and shrubs makes one feel good." - Chris Wallace-Crabbe reflects on New Shoots
---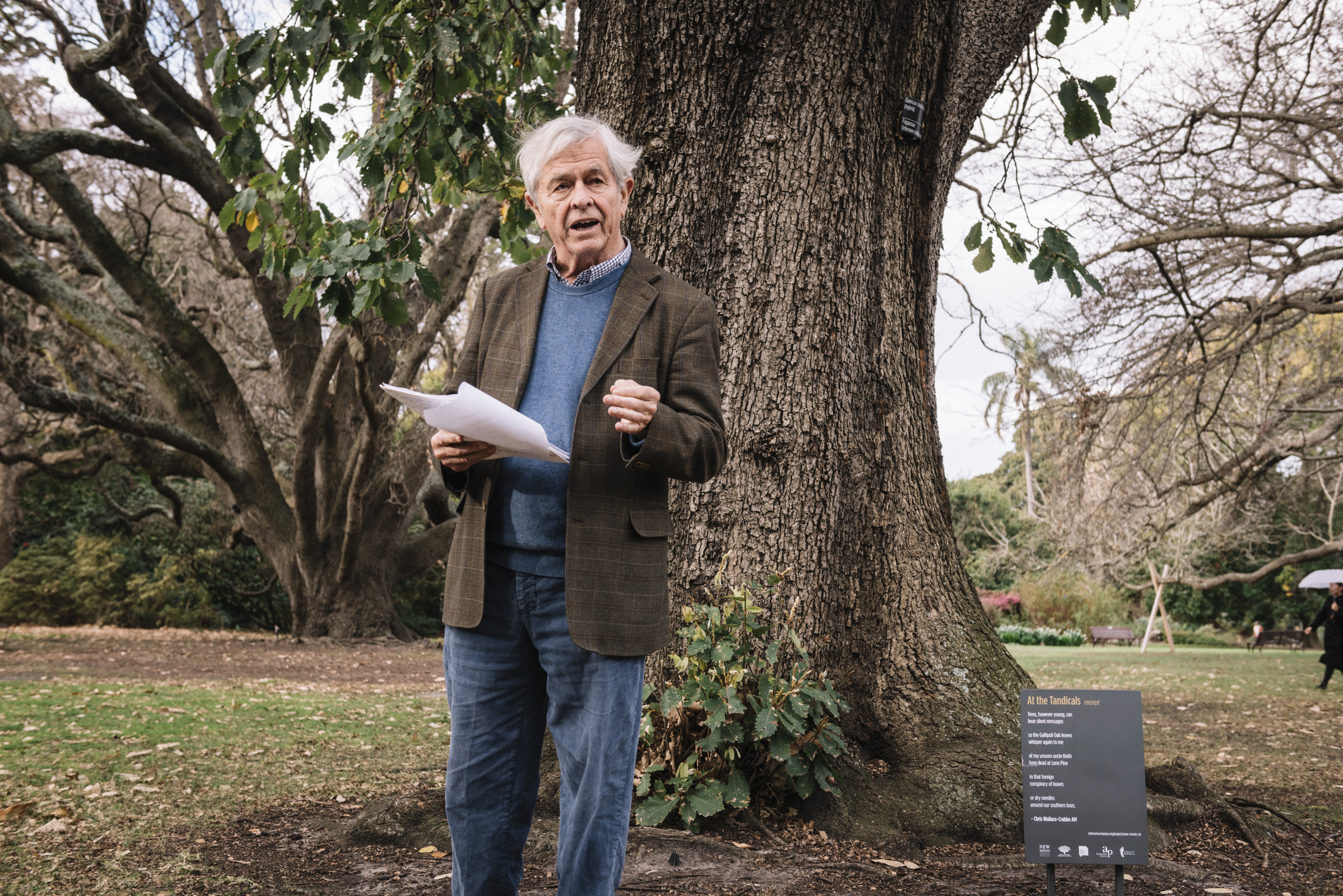 Photo by Phoebe Powell
This is the dream republic
of fruits and flora.
~ from 'At the Tandicals' by Chris Wallace Crabbe


Chris Wallace-Crabbe featured in New Shoots: A Garden of Poems in the Royal Botanic Gardens Victoria. The launch tour followed poems 'planted' in the gardens, an installation of 'poetic pathways' which will remain indefinitely.

---
As a kid I thought that the word, botanical, applied simply to that marvellous green paradise along Domain Road. It was the zone not only of exotic trees and diminutive islands, but of ducks, swans and snapping eels, hungry at the water's edge. We threw snaps of bread to these creatures. Life went on, and my family moved far from South Yarra, but in time there would be open air plays to see in the Gardens, for my children's delight. Black swans were special, because in books those birds were always white. And the kikuyu lawns were just great for somersaults.
Grown up, there were tales others told, some about the Gardens as a pastoral site for discreet courtship. More than that, the painter Len French sometimes yarned to me about larrikins, rough acquaintances who would break into the Botanicals at night, for some purpose which I now happily forget.  Were they robbers or were they "perves", as the slang of the time put it?  But there are other strata of memories coming to mind from later on, not least those of doing TV interviews under the oaks with exuberant Dinny O'Hearn, in the twilight of his rich life.
And here I was, back yet again, under the aegis of Red Room Poetry and Australian Poetry, my role here being to notice everything.
---
Related poem
---
Back when they were burgeoning, one of my children would refer to the place as "The Tandicals", as we prepared for another arvo  of ice creams and swan-feeding. Part of the magic came, of course, from the Victorian, late-romantic influence. Under it, William Guilfoyle had changed a geometrical Garden of Science into that winding wonderland of irregular nooks and groves, with water reappearing again and yet again. But for us, feeding those clamorous swans was essential. They were a jazz band of black necks and red beaks. Beyond or behind all this, there might well have been wallagapoogies in the reeds, or down in the dark, near-vertical Fern Gully. 
As usual this time, I met the oak lawn first: so stately, calming and English, despite the exotic origin of some of these spreading oaks. Let me add that the labelling is a verbal component of these garden pleasures. To know that this tree is a different kind of Whatnot, native to Wheresoever, and to spell out its Latin proper name, all this adds icing to the cake. One can be an incipient Robin Hood or Charles Sturt, always afoot, and still have a taste for language. One species is even characterised as "pubescent", like some teenager.
Merely to recite the names of trees and shrubs makes one feel good. I think of the burrawang, the red cedar, Chilean wine palm, three xanthorreas (few words begin with x), Wallami pine, black wattle and coast banksia: the latter paying its posthumous tribute to Sir Joseph Banks, that bustling forebear had he known it.
There are always surprises in life, even in a botanical retreat, a rolling park of leafy reflection. And of perspectives. One surprising feature here is Guilfoyle's Volcano: a strict geometrical spiral of sparse, arid vegetation with exotic flavours, you might say. Across the road these days from a dignified girls' school, it seemingly got its name from his visit to Mt Warning, a volcanic plug in New South Wales. This mound is a calming warmth: geometrical from the air, it surrounds visitors quite casually cacti. Funny, though, it began as a small reservoir for the Gardens. It remains there as the lily lake, never having been at all volcanic, after all. Naming can be like that..
Celebrating native trees or exotic shrubs means leaving out the lawns themselves. Shaped in a more or less anatomical way, like a huge flattened digestive system, they hold the whole show together and must take a mighty lot of mowing.
Certain trees, at random, celebrate public occasions or famous folk. As a convinced Furphy reader, I get a kick from the bottle tree which pays its tribute to Kate Baker, that great supporter of "Tom Collins" and his masterpiece, Such Is Life. The novelist had grown up in Victoria, and Kate's tree pays its continuing tribute to him as well. All of which leaves me thinking in my Aussie pastoral mode that these gorgeous, inexhaustible gardens might well be able to let us go home for now, thinking that such is life, after all.

Chris Wallace-Crabbe is a Red Room commissioned poet for New Shoots Victoria.
Christopher Wallace-Crabbe was born in the inner suburb of Richmond in 1934. After several downtown jobs, Wallace-Crabbe became Melbourne University's Lockie Fellow in Australian Literature and Creative Writing from 1961 to 1963. Over the next decades he became Reader in English before... read more »