---
---
The Centre
The compulsory Drug Treatment Centre (CDTCC), located in Parklea, is, as its name suggests, a centre for people for people who have made repeat offences in order to support a drug habit. It recognises the fact that for many with dependancy issues, being given another chance is only of use once the underlying habit has been treated. The Unlocked project aims to give people another chance at learning about poetry, language and themselves.
How it all started
The Red Room Company's first contact with the centre was on Harmony Day, in March 2013, when Red Room Poet Nick Bryant-Smith visited the centre for a short performance. Due to the inmates enthusiasm for hip-hop, and their desire to work with Nick, The Red Room Company organised to come back in July to run a full Unlocked project in the centre wtih Nick and The Red Room Company's artistic director Johanna Featherstone.
The workshops
Using hip-hop and rap as an entry point the workshops delved into a huge range of poetic styles and discussed all stages of writing, editing, publishing and performing processes as well as delveloping their vocabulary of poetic terms that allowed them to discuss the different linguistic and literary techniques they were employing in their poems.
When asked to give feedback on the first day of workshops, and whether they enjoyed them, the students pointed out that they had come back voluntarily. It's a common response for participants that this is the only educational program that they willingly come back to for more. Even more encouraging was that the students comented that though hip-hop and rap may have been their initial reason for their involvement in the project, they really enjoyed learning other kinds of poetry and writing, and seeing how they all relate. As one student said: 'we came for the rap, we stayed for the poetry'.
Print Anthologies
As with all the Unlocked projects, The Red Room Company has created a print anthology - available through our online store.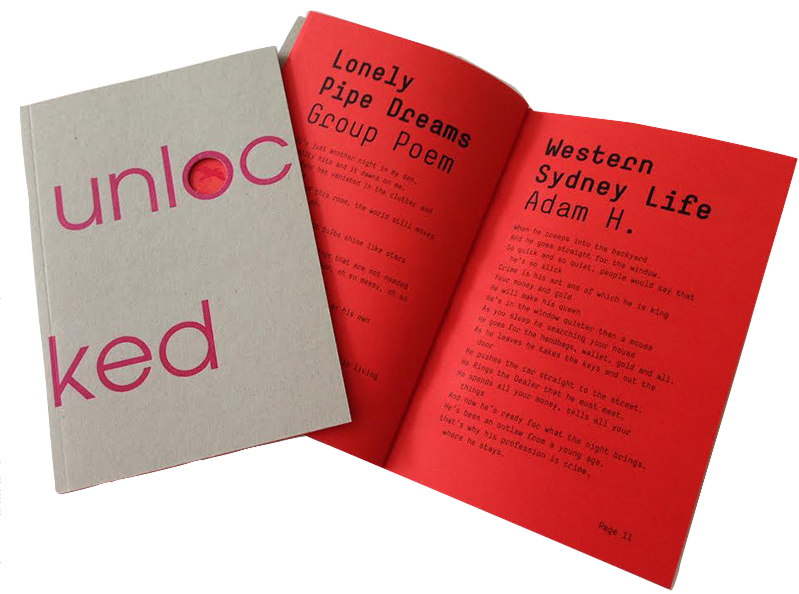 Support Unlocked