David Brooks
About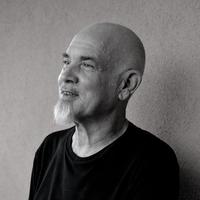 David Brooks is an essayist, short-fiction writer and novelist as well as poet. His work has won or been shortlisted for numerous awards, is widely anthologised and has been translated into many languages.

Currently Honorary Associate Professor of Australian Literature at the University of Sydney, he was the 2015/16 Australia Council Fellow in Literature, and from 1999 until 2018 co-editor of the journal Southerly.
He has had a life-long interest in photography. His latest work is The Grass Library, an account of his life with rescued animals in the upper Blue Mountains.
Reflection
"It's the kind of thing poets do" – Shadow catchers – Reflection
Projects
Audio
David Brooks reads 'Donovan's Glasses'

David Brooks reads 'The Tableland'