---
---
Dreams, the window to our souls
Dreaming of the past, Dreaming of the present, Always dreaming
Dreaming of the future. Daydreaming, Always dreaming
Good dreams, bad dreams, real dreams.
~ excerpt from Dreaming Time by Andrew W.
NAIDOC Week 2017
During NAIDOC Week Murri poet Lionel Fogarty led an introductory poetic and musical performance at Balund-a Diversionary Centre and at the local Tabulam Primary & Bonalbo High Schools. On 29 June, Lionel led a 3-hour NAIDOC inspired poetry performance and workshop with 3-4 writing activities, encouraging participants to begin to express themselves poetically in the lead up to the week of workshops at Balund-a.
The Workshops
Celebrating Red Room Poetry's 20th Unlocked Program, returned to Balund-a with Murri poet, Lionel Fogarty, and musician Joe Geia for a special series of Unlocked poetry workshops. Lionel and Joe are both pionering activists and leading spokespeople for Indigenous rights in all areas. They were supported by Bundjalung Elder Lewis Walker, as well as local artists Roy Gordon and Gilbert Laurie from ACE Community Colleges.
The program ran from 31 July - 3 August, with three full day workshops of poetry, language, music and art, culminating on the fourth day with a community-led event by local Elders. Unlocked plays an important role in connecting Indigenous communities and celebrating cultural connection with Elders.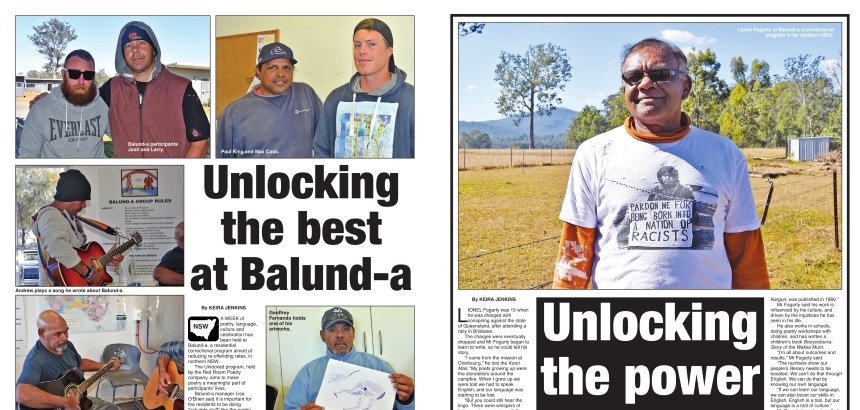 Unlocked double-spread in the Koori Mail
About Balund-a
The Balund-a Program is an innovative residential diversionary program for male offenders over 18 years of age. Located at Tabulam, within the Bundjalung Nation, the program's aim is to reduce re-offending and enhance skills within a cultural and supportive community environment. The Aboriginal name, Bugilmah Burube Wullinje Balund-a roughly translates as "Be good now you have a second chance down by the river".
Support Unlocked

Poems |