Mathew Calandra
About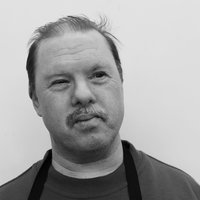 Mathew Calandra is a master of naïve line work. In the manner of Egon Schiele, Calandra's lines contain a dynamic energy in their awkward simplicity. He is able to imbue the most banal subject matter with character and tone ranging from macabre humour to deep beauty.

Mathew Calandra's curriculum vita documents an exhibition history that includes both national and international curated exhibitions. Mathew has exhibited in Holland, and featured work in Sydney's celebrated international art fair, Sydney Contemporary.

The artist's sophisticated portfolio of artwork led to his involvement as a guest artist with the prestigious Cicada Press within UNSW Art & Design. At UNSW, Mathew worked alongside significant Australian artists the likes of Reg Mombassa, Elisabeth Cummings and Vernon Ah-Kee.

Work by Mathew is held in various collections including Artbank.