Guwayu – For All Times
Events
Coming up
Guwayu poets @ Sydney Writers Festival | Thursday 29 April 2021

Come down to Carriageworks at 4pm Thursday 29 April to hear from featured Guwayu contributors including Kirli Saunders, Ellen van Neerven, Nardi Simpson and Joel Davison, in conversation with Daniel Browning (ABC Radio National Awaye!). Held as part of Sydney Writers' Festival 2021.
Past
Launching Guwayu — For All Times | Tuesday 28 July 2020
Guwayu – For All Times was live-streamed launched with Jeanine Leane, Kirli Saunders and Anne-Marie Te Whiu, with special readings from contributing poets from the collection – Bruce Dawe, Adrian Webster and Lyndsay Urqhart. Co-presented with Melbourne Spoken Word.
Deadly Editors: Talking First Nation Anthologies | Sunday 2 August 2020
Three of Australia's leading First Nations editors, Jeanine Leane, Alison Whittaker, and Ellen van Neerven come together to yarn about all things literature, as part of the Red Dirt Poetry Festival 2020.
Watch the replay >
Poets in Conversation on Instagram Live | Tuesday 3 – Friday 7 August, 2020
For one jam-packed week in August, @Blackfulla_Bookclub's Instagram played host to Guwayu poets, Nardi Simpson, Claire G Coleman, Kirli Saunders, Yvette Holt and Nicole Smede for some special conversations and readings.
Testimonials
This collection extends the ancient and continuing cultural practice of weaving to words. In Guwayu, the page becomes the vessel – the crafted object that carries culture. The making and crafting of each vessel embeds the maker(s) into its final shape and form – its body. The poems in this collection are baskets and nets of the page. Together they are an exquisite vessel of twenty-first century, living Aboriginal culture.

~ Sydney Review of Books

'The Australian literary landscape needs this bold, brave intervention to wake it up from the 232-year slumber and the dream of the settler mythscape. Guwayu breaks the silence—feel the beauty—hear our words.'

~ Dr Jeanine Leane

'...within these pages you will read some of the best and most exciting artists writing in Australia today. Their offerings are provocative and generous, and we, the readers and listeners, are fortunate to be in their presence.'

~ Tony Birch, award-winning author, activist, academic
Media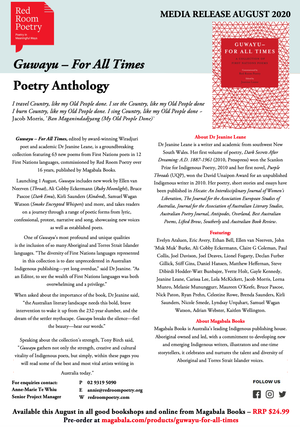 Media Release (August 2020)