---
---
The project
The South Coast Correctional Centre is located near Nowra, a little more than two hours south of Sydney.The centre houses uup to 600 inmates, mostly men. In early October 2012 The Red Room Company's Artistic Director Johanna Featherstone headed to Nowra with poets Lionel Fogarty and Nick Bryant-Smith to run intensive poetry workshops over three days. Like other 2012 Unlocked projects, The South Coast Correctional Centre workshops focused on Indigenous inmates, in response to the deeply troubling over-representation of Indigenous Australians in prisons. In Nowra, the student group included a culturally diverse range of Australians including a number of inmates with Chinese and Arabic backgrounds. For several students, English is not their first language, this presented challenges as well as opportunities for the facilitating poets.
The workshops
Over the three days, students were exposed to a diverse range of poetry and poetics. Lionel Fogarty gave the students an immersive introduction to his work, which links heavily to his experiences living in and outside of missions, his fiercely political commentary focused on Indigenous rights and black deaths in custody, as well as his experiences travelling overseas to international writers' festivals and events. In this way, he gave the students an insight into what poetry can do, not only in therms of articulating culture and politics, but also in terms of opening up new worlds. Rapper and spoken-word poet Nick Bryant-Smith (aka SOLO), amongst other exercises led the students in composing a group rap, encrouraging them to think creatively aboutrhyme and rhythm, and how it can be used.
As with every Unlocked project, there is a certain amount of flexibility in the programme, depending on the makeup and desires of the students. For this project, the diverse language abilities provoked the facilitators to get students to think about the role of language in poetry, not just as communication, but also visually. Students worked together, translating each other's poems, and thinking about the language, be it the roman script or Chinese characters. By encouraging students from different back grounds to work together, poetry becomes a way to communicate, to get to know other individuals and groups within the prison. For those with a non-English-speaking background, it also becomes a way to learn a language that will be extremely useful when it come time to find work in the community.
Print Anthologies
As with all the Unlocked projects, The Red Room Company has created a print anthology - available through our online store.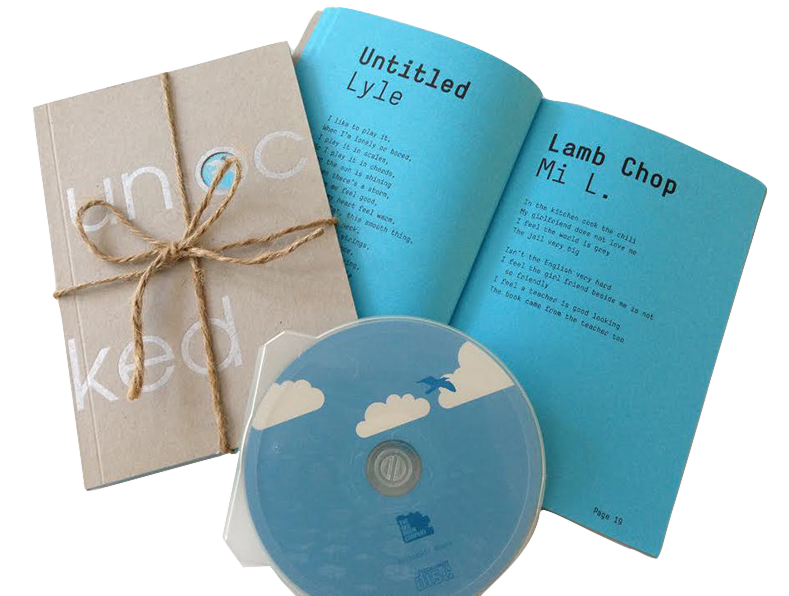 Support Unlocked