Poetry Object 2018
A maze of tar splitting the page,
Like the imperfections of wrinkles under your eyes.
~ from 'Mapping Love' by Joe, First Place (Secondary), Poetry Object 2018
Poetry Object 2018 Winning & Highly Commended
We're delighted to announce the prize-winning poems of Poetry Object 2018. Students and teachers from all over Australia and New Zealand generously shared 2,526 poems about their special objects across classrooms, cultures and languages.
Celebrated poet Bella Li has judged the competition and curated the list of first place and highly commended poems, while Regional Express (REX) Airlines supplied a prize category for poets writing from regional and rural locations.
View the winning and highly commended poems with judging notes
Animation Exhibition
First place Poetry Object poems have been featured in animations, which were screened online and in cinemas!
Watch our short animations of 2018 and 2017 winning poems.
Participating cinemas (27 December 2018 – 10 January 2019)
Event Cinemas George Street (NSW), Hoyts Bankstown (NSW), Reading Cinemas Dubbo (NSW) Hoyts Northland (VIC), Hoyts Chadstone (VIC), Toowoomba BC&C (QLD) and Darwin Casuarina BC&C (NT).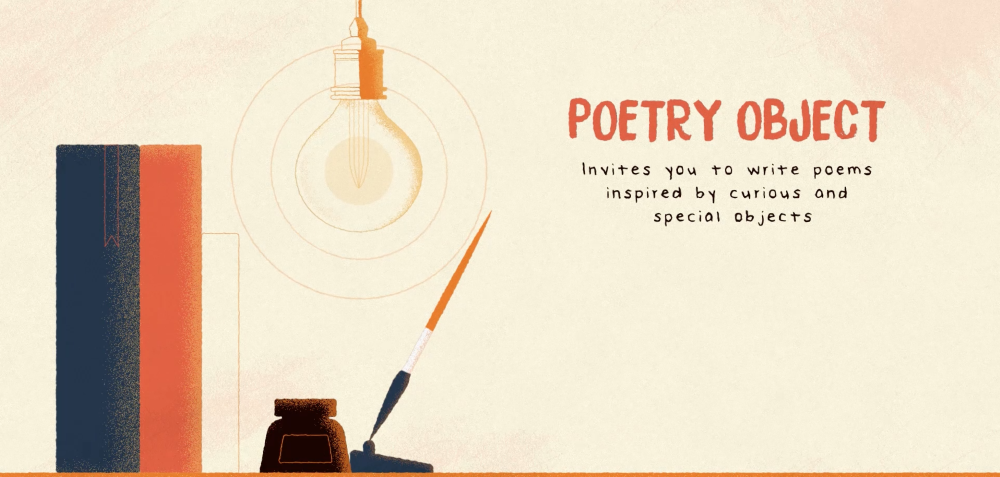 About Red Room Poetry Object
Cartwheeling into its eighth year, Red Room Poetry Object is Australasia's largest free poetry-writing competition for students and teachers (Years 3-10). Poetry Object ignites imaginations by inviting young writers to create, publish and submit poems inspired by special objects. In 2018, hundreds of schools joined us for the journey with free learning resources and over $10,000 in prizes.
Quick links
Prizes & Judging

Certificates of achievement are awarded to all participants, with prizes awarded for Winning Student Poem (Primary), Winning Student Poem (Secondary), Winning Teacher Poem, and Winning School Installation. Prizes include flights, travel vouchers and poetry packs, valued at over $10,000. View the full list of exciting prizes
Poetry Object 2018 was judged by Bella Li, winner of the Victorian Premier's Literary Award. What is Bella looking for in your poems?
Installations
The installation category invites you to create a poetic gallery or exhibition inspired by your group's work! Use fine arts, the sciences, or music to bring your poems to the physical realm.
Here are some of our favourite installations from past years: Trails and Tales by Rosebery Middle School, Poetry Object Kites by Mount St Thomas Public School, The Sole of a Poem by St Mary's Anglican Girls School and The Cabinet of Lost and Found by our commissioned professional poets.
Poetry Object 2018 Learning Resources
For Poetry Object 2018 we teamed up with the National Museum of Australia, Museum of Applied Arts & Sciences, Art Gallery of NSW and six poets from Australia and New Zealand to develop a dynamic new learning resource with creative and curriculum-aligned activities. View all Poetry Object resources
Workshops
We delivered Poetry Object learning opportunities in 2018 in a range of locations. The workshops, facilitated by professional poets, encourage students and teachers to engage with poetry in creative environments.
Contact us for workshop enquiries
View recent poetic learning workshops
A new resource featuring 40 poetic activity cards to spark imagination and creative writing. Inspired by original poems from Poetry Object, this interactive resource is designed to enliven poetic learning through language, literature and literacy. Created in partnership with the Australian Association for the Teaching of English.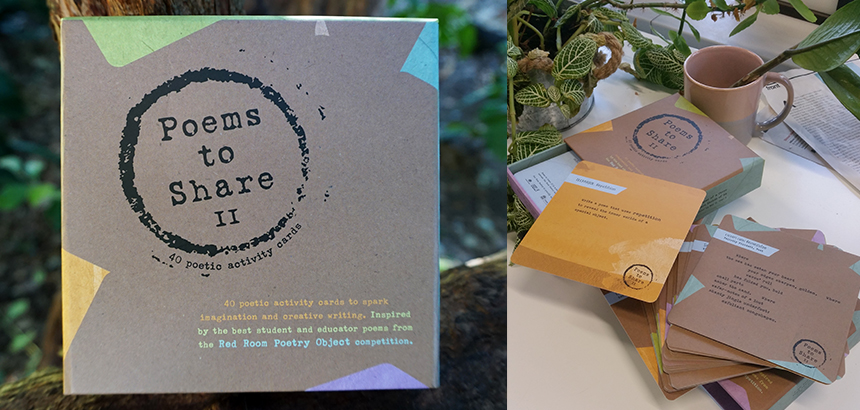 Poetry Object is proudly supported by Oranges & Sardines Foundation.