Sculpting Poems in the Garden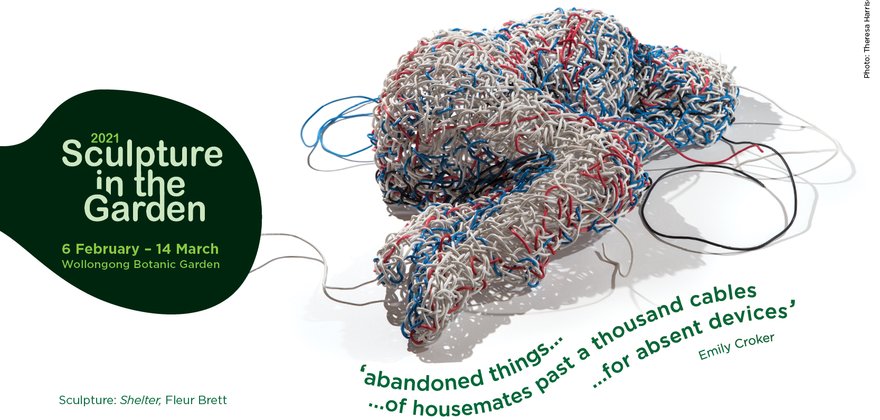 whatever's on your mind
whatever's pushed or pushing
the light moves through some things
bounces off others
every atom on a different trip
- Ali Jane Smith from 'Thorny, Juicy'
Red Room Poetry has partnered with Wollongong City Council to present a series of free workshops and commissions as part of Sculpture in the Garden at Wollongong Botanic Garden.
As part of Sculpture in the Garden in 2021, we commissioned two Illawarra poets – Emily Crocker and Ali Jane Smith – to create ekphrastic poems responding to artworks in the Garden.

Now, we're hosting a series of free on-site ekphrastic workshops during February and March. Members of the public are invited to come along and create their own direct-response to the artworks being exhibited.

Register your attendance through the booking link below. See you in the Garden!
Workshops
All three workshops are free. Bookings are required. For further information and to book a workshop, please visit the Wollongong Botanic Garden website.
Saturday 20 February, 2.00-4.00pm – CLOSED
Poet Ali Jane Smith leads this free outdoor ekphrastic workshop creating new words/worlds responding to the Garden's artworks and surroundings. All ages and writing experience welcome.
Bookings: Eventribe | Facebook

Saturday 27 Feb, 2.00-4.00pm – CLOSED
Performance poet Isabella Luna leads a free youth workshop forming new lines and fresh sounds in response to the Garden's artworks and surroundings. All Under 25 welcome. No writing experience needed.
Bookings: Eventribe | Facebook
Friday 12 March, 10.00am-1.00pm – open to the General Public
Storyteller and poet, Lilli Rodrigues-Pang will lead this outdoor ekphrastic workshop creating new words / worlds responding to the sculptures and surrounds. All ages and writing experience welcome.
Bookings: Eventribe | Facebook